May 24, 2021
6 minute read
As Digital Banking Takes Off, Hidden Defection of Consumers Is Rampant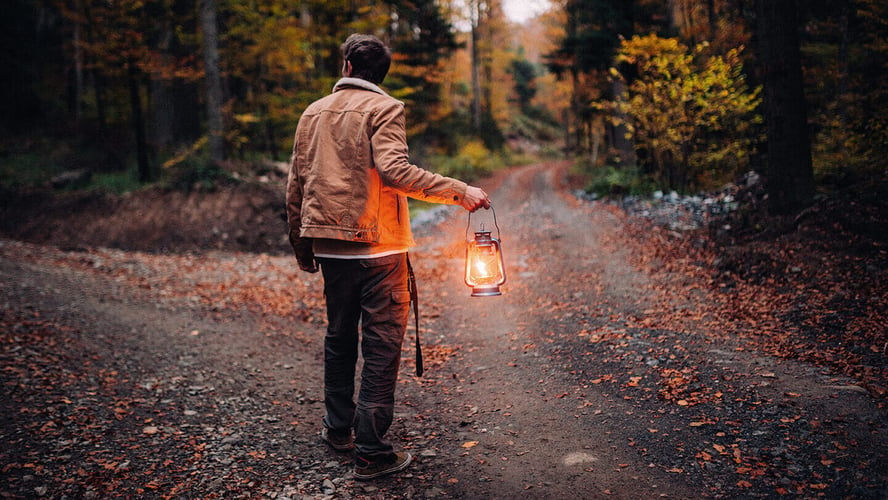 At a Glance
As Covid-19 surged, consumers increasingly turned to digital channels for their banking. One negative effect for banks: more hidden defection of consumers buying products from banks and providers other than the primary bank.
In Bain's new consumer survey, respondents cite the competing offer's cost, digital tools and convenience.
Defection could intensify in many countries, due to more regulations that make consumer data portable and thus encourage competition.
To plug the leakage, banks must remove friction from their marketing so consumers don't feel compelled to shop around, and excel in the basics of opening accounts, so prospective buyers don't drop off.
Banks' steady improvement of their mobile apps and websites paid unexpected dividends for customers during the Covid-19 pandemic. As branch visits dropped, many consumers turned to digital channels for all kinds of transactions, including purchases of banking products.
But beneath the swell of digital purchases lies a vexing challenge for banks: the hidden defection of customers to competing banks, whether traditional incumbents or young digital attackers. From 25% to 51% of all banking product purchases, depending on the country surveyed, go to banks that aren't the respondent's primary bank, Bain's NPS® 2020 survey of about 56,000 consumers in 11 countries finds (see Figure 1). From our 2019 global survey, we know that digital channels are the most commonly used methods for purchases at competing banks.
Figure 1
Banks are losing many purchases of new products to competitors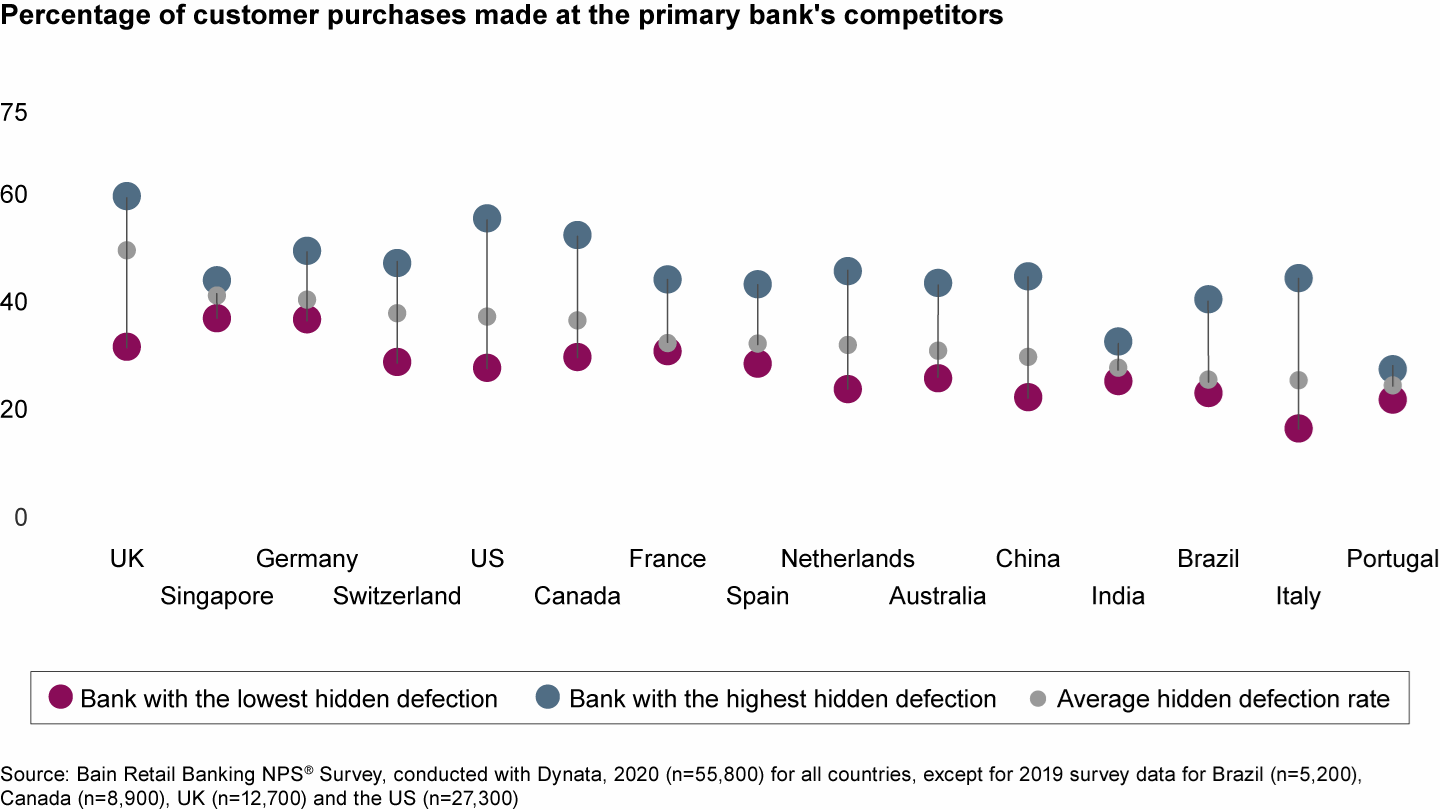 Hidden defections hurt a bank's economics. Although primary banks may tend to keep customers' deposits and core current (checking) account, they're losing customers, especially on high-margin products such as loans, credit cards and investments.
Why customers defect
There's no single reason behind hidden defection. While respondents most frequently cite affordability of a competing offer, they also cite better digital tools, a simpler purchasing process and convenience (see Figure 2). Younger customers in particular put a greater emphasis on digital tools, convenience, branding and security.
Figure 2
Many factors cause hidden defection, with price cited most often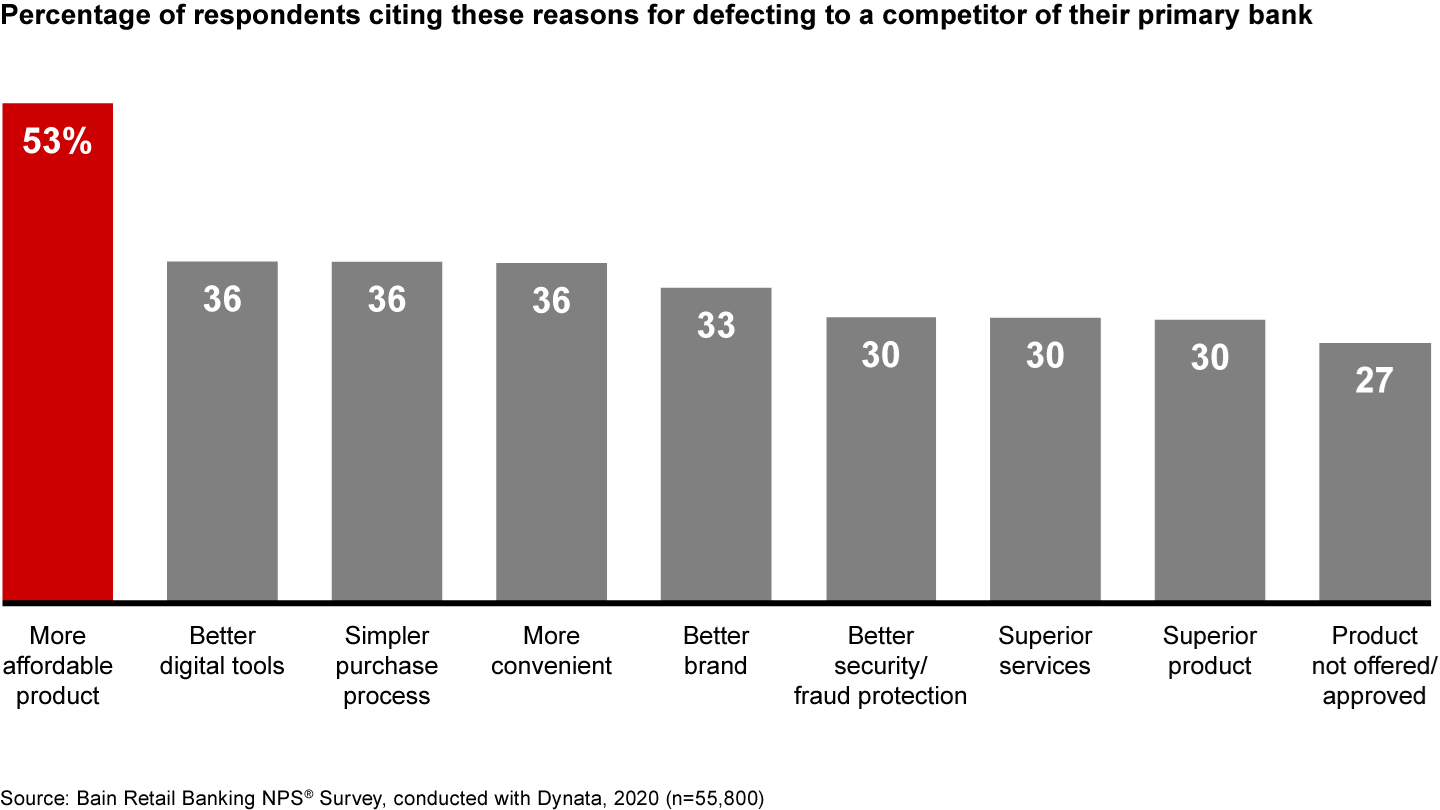 If current trends hold, hidden defection will likely intensify in many countries, due to the spread of regulations that make consumer data portable and thus encourage competition. The UK, with one of the most competitive banking markets, has the highest defection rate of the countries surveyed. As consumer-friendly, "open-banking" types of regulation take hold in more countries, competition in those markets could intensify as well. Banks in fragmented markets such as the US and Germany stand to lose even more business, unless they act now to turn the tide.
In response, a useful first step for banks is to study consumers' search and purchase behavior. Some respondents actively search for product options, others respond to ads, and 29% of those who defected received a direct offer from a competing bank. In this latter group, 78% said they were willing to buy from their primary bank if it made a compelling or equivalent offer (see Figure 3). That share was even higher for younger respondents.
Figure 3
Most customers who received direct offers would be willing to buy more from their primary bank if it made a personalized offer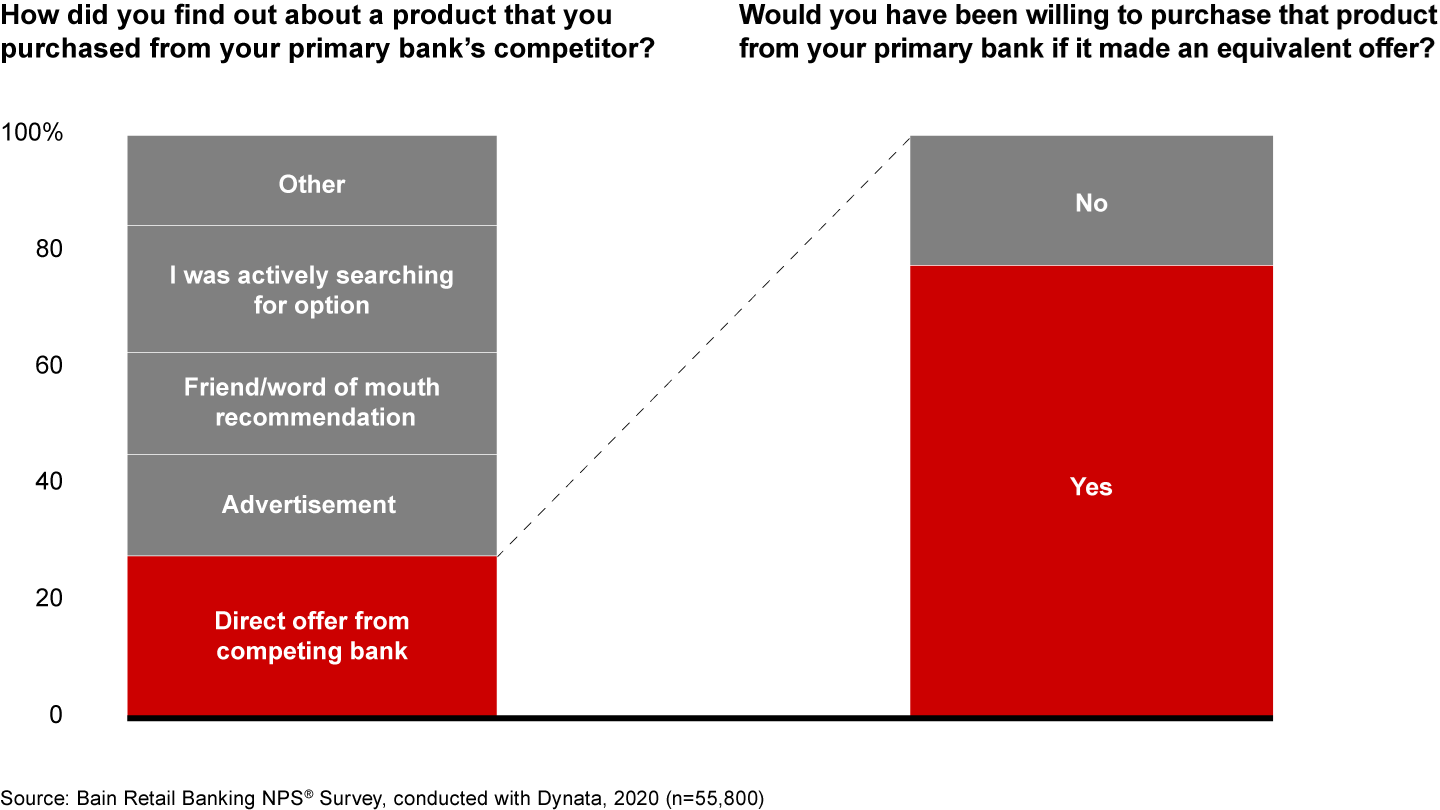 Throughout all the countries surveyed, there are significant gaps in hidden defection between leading and lagging banks, along with varied effectiveness at selling digitally (see Figure 4). Consumers are less likely to be detractors about a purchase episode if they have a smooth digital experience, resolve any issues with the desired purchase at the first contact, and complete it quickly and without any hassles (see Figure 5).
Figure 4
Incumbent banks have a lot of room to improve in their digital sales episodes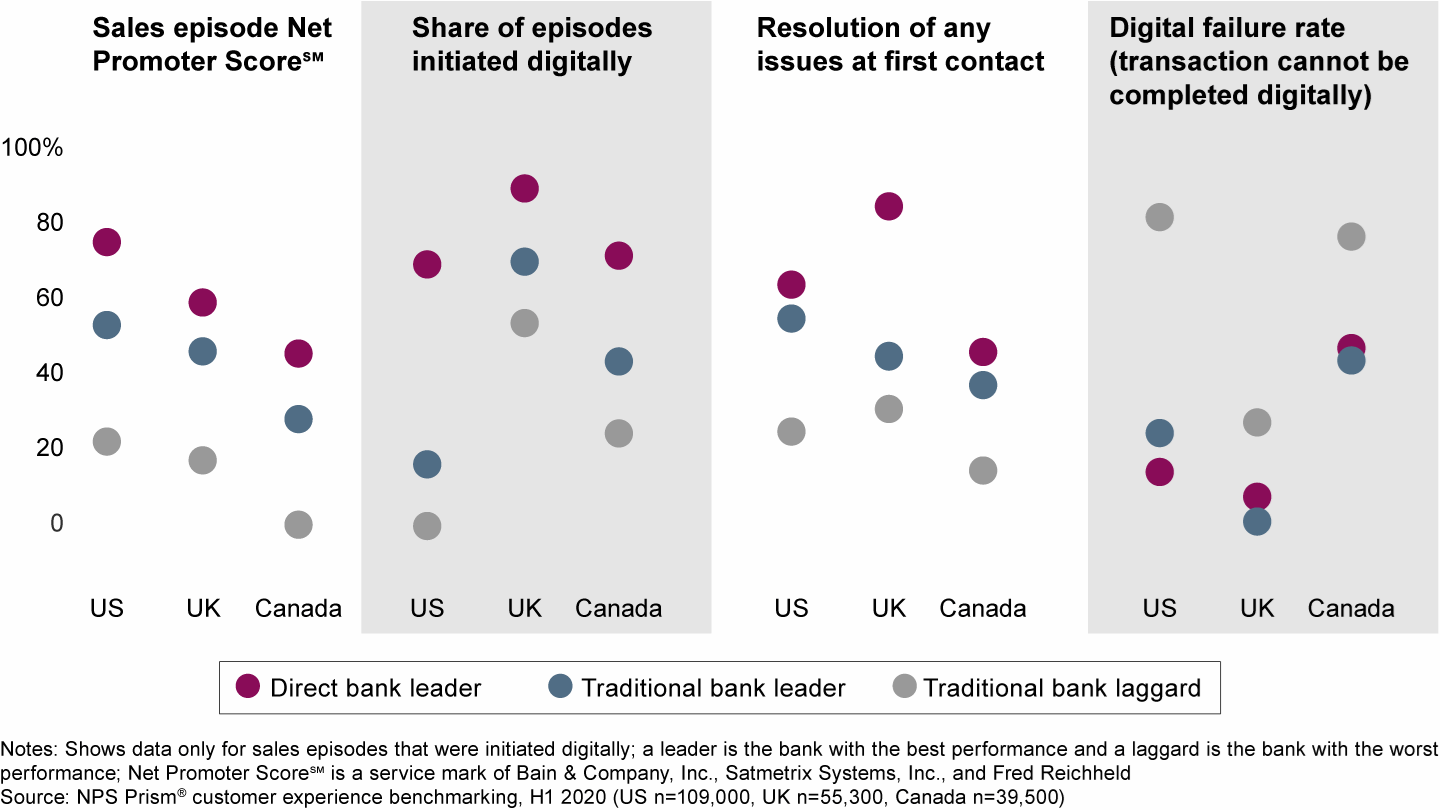 Figure 5
A smooth digital sales experience goes a long way toward pleasing customers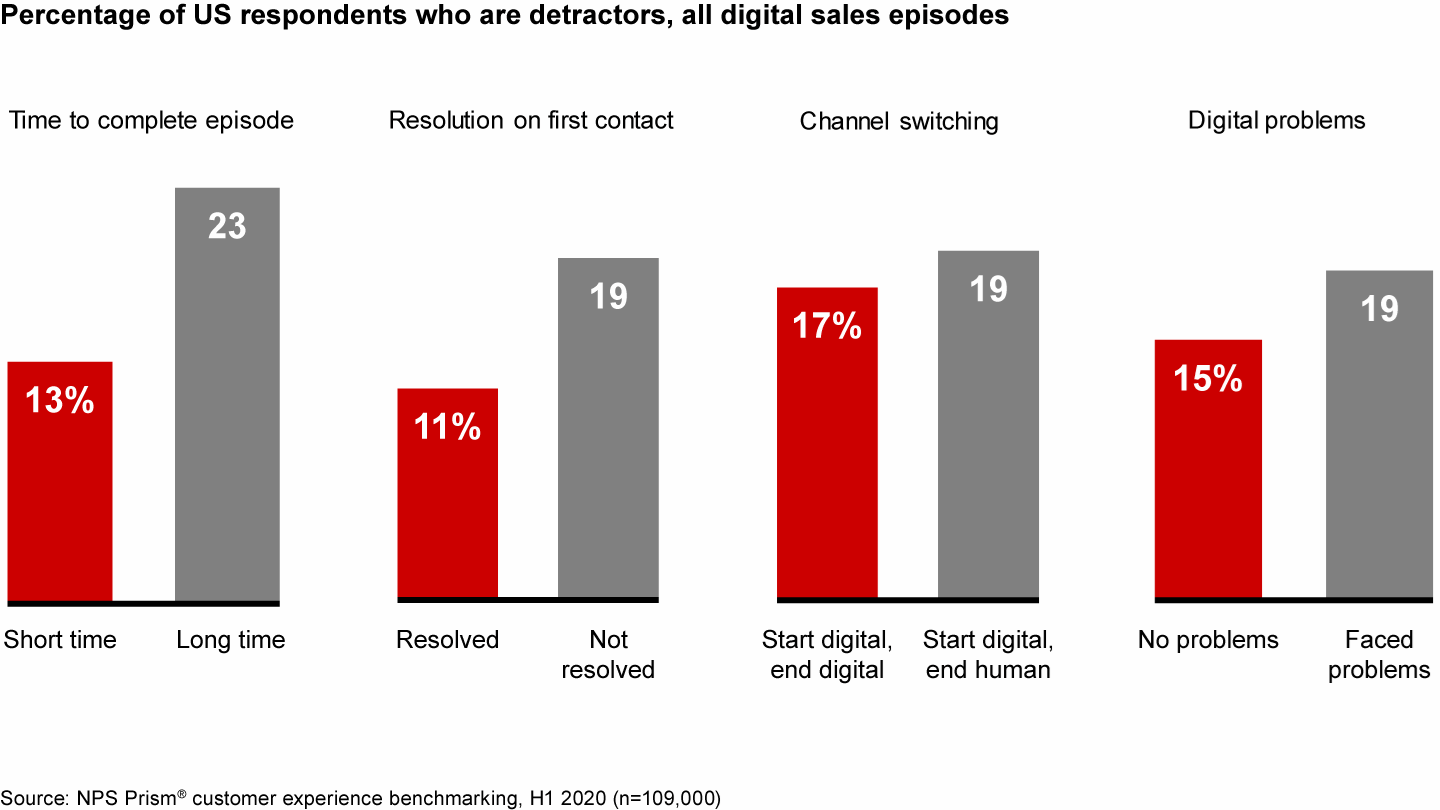 How banks can stem the tide
The implications for banks are clear. First, banks should remove friction from their marketing so that consumers don't feel compelled to shop around. Primary banks have the best information about their current customers, information they can use to learn more about what individual consumers are likely to want at a certain moment. Such information forms the basis for personalized offers that appeal.
Banks also have to excel in the basics of opening and setting up accounts, completing purchases on first contact and providing smooth digital interfaces. At any point along the sales funnel, a defect or failure can easily cause a prospective buyer to drop off. Younger consumers have even higher expectations for ease and convenience.
NatWest in the UK has made substantial progress in these areas over the past few years. The bank's steady improvement in the use of digital tools, with a mobile-first design approach, has created personalized landing pages and a popular, convenient mobile app. As a result, NatWest has expanded its digital sales percentage from the low 30s to well above 50, reaching 80 in the middle of 2020 during the pandemic lockdown. And NatWest's hidden defection on loans has improved substantially, from over 50% in 2016 to about 35% in 2019.
Customers' core banking relationship tends to be sticky, but most banks don't take advantage of that relationship by delivering more value through personalized offerings of ancillary products. Those banks that reach out at key moments in people's lives and make the digital process very easy and convenient stand to make banking products less commoditized, economically boost sales and please customers in the bargain.
The authors thank the following colleagues for their valuable contributions to the analysis behind this brief: Christy de Gooyer, Sonal Chawla, Hridesh Sagar, Sahiba Gambhir, Neeraja Krishnadas, Tarush Gupta and Jessjit Singh.
---
Net Promoter®, NPS® and the NPS-related emoticons are registered trademarks of Bain & Company, Inc., Satmetrix Systems, Inc., and Fred Reichheld. Net Promoter Score℠ and Net Promoter System℠ are service marks of Bain & Company, Inc., Satmetrix Systems, Inc., and Fred Reichheld.
Tag(s):
Stay Up to Date on the Latest in CX & NPS Benchmarking
Subscribe to our blog to learn about all the major industry trends revealed by NPS Prism data.