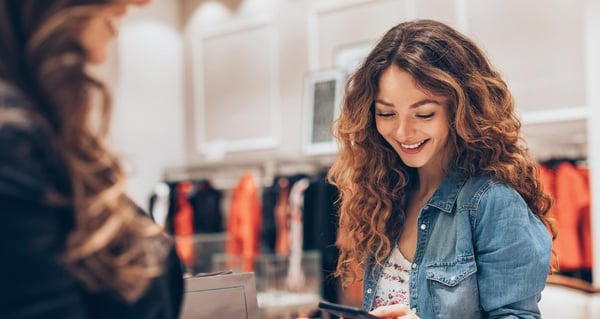 What is a
Net Promoter Score?
Net Promoter ScoreSM (NPS®) is leading customer satisfaction metric worldwide, used by two-thirds of the Fortune 1000. It's the foundation of Bain & Company's Net Promoter SystemSM and measures customers' experiences using a single, simple question: "On a scale of 0 to 10, how likely are you to recommend our business to a friend or colleague?"
How to Calculate NPS
To calculate your company's NPS, start with the central survey question, "How likely are you to recommend us to a friend or colleague?"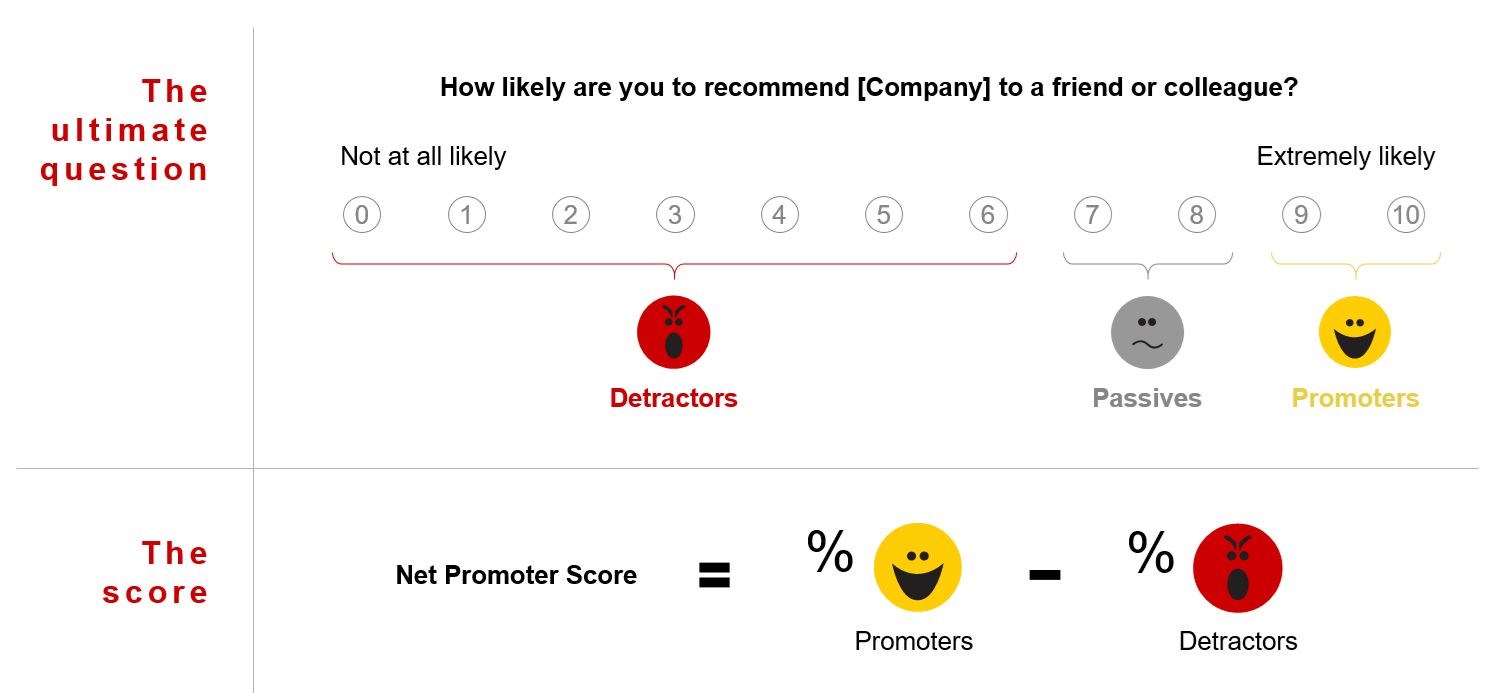 Your customers should intuitively respond to this question on a zero-to-ten scale, which means you don't need to include mention of the scale each time you publish an NPS survey. Depending on their answers, each respondent will fall into one of three categories on the NPS scale.
To calculate your Net Promoter Score, subtract the percentage of Detractors (those who scored 0 to 6) from the percentage of Promoters (those who scored 9 or 10).
Passives aren't directly incorporated into this calculation, but they do impact the overall score since a higher percentage of passive respondents consequently lowers your number of Promoters and Detractors.
For example, if 60% of your survey respondents are Promoters, 30% are Passives, and 10% are Detractors, then you have an NPS of 50.
Bain & Company's Net Promoter System and accompanying scoring methodology uses the zero-to-ten scale as it's familiar and easy for your customers to understand. It helps avoid accidental mix-ups on which end of the scale is positive and provides enough variety that respondents aren't likely to default to a score of "five out of five" for satisfactory experiences.
Apart from relationship NPS, which is calculated through responses to "the ultimate question," you can use Bain's scoring system to measure experience NPS at the journey level.
How Does NPS Measure Customer Experience?
NPS can help you improve customers' experiences by measuring overall customer sentiment and potential trends across customer segments.
Your scores evaluate and measure multiple aspects of the customer experience (CX), including loyalty, satisfaction and enthusiasm, through several critical metrics.
Reasons to Measure NPS
NPS survey responses go a long way in showing you where you're doing well so you can double down,
or where you need to improve so you don't lose customers.
By measuring NPS and reviewing survey feedback, your company can:
What is a "Good" NPS?
Scores range from -100 to +100. In general, a positive, higher score is better, but performance is highly dependent on several critical variables — like industry, company size and geographic location. You should account for all of these factors when assessing your NPS to see how you stack up against other companies.
Good NPS look different for every organization. You should calculate your target scores using a combination of industry benchmarking data, market intelligence and up-to-date business insights.

How to Benchmark Your NPS Against Competitors
Competitive Benchmark NPS account for feedback from not only your customers, but also your competitors' customers. These competitive scores provide an objective basis for comparing your feedback to the feedback gathered by your competitors. The findings from your competitive benchmark scores can provide the basis for goal setting and prioritization at the highest levels of your organization.
Benchmarking your NPS against other companies can help you understand where you stand in the competitive landscape, including where you're leading the pack and where you have opportunities to enhance your CX.
Once you've collected survey responses and calculated your scores, you'll want to evaluate your results against similar organizations in your industry.
Three Keys to Successful NPS Benchmarking
Evaluating NPS Benchmarks by Industry
NPS vary significantly between industries, and a leading NPS in one industry can be a lagging score in another.
Moreover, certain markets may never reach high scores, making benchmarking even more valuable for companies looking for an accurate and informative picture of how they compare to competitors. 
NPS Benchmarking in the Telecom Industry
Telecom businesses work with large customer bases and often rely on repeat business to drive revenue, which makes NPS essential for measuring and improving customer experiences. They can use NPS to capture in-depth insights across mobile interactions, internet, paid TV, streaming and more.
2022 benchmarking data from Bain & Company revealed average relationship NPS for telecom organizations in three major categories:
Wireless: 19
Internet: 13
Streaming: 12
B2B telecom providers leverage NPS to understand wireless and wireline experiences for business and public sector customers and to measure the success of sales, service delivery, support and more.
NPS Benchmarking in the Utilities Industry
Utility companies, such as those that provide energy and natural gas to consumers, rely on NPS data and similar customer insights to better understand CX and improve customer journeys. ​​Given the unique nature of the utilities industry, NPS is often used for the purposes of tracking customer sentiment over time, as well as understanding what best-in-class looks like and how to apply it to a different customer base.
NPS Prism's most recent benchmarking data indicates an average NPS of 18 among over 30 utility parent companies in the US, a rate that's held fairly steady in recent years.
Companies in this industry might conduct relationship NPS surveys to see how customers are perceiving their utility and how to ensure they're meeting customers' changing energy needs. They can also use utilities NPS benchmarking to evaluate how other organizations in the industry approach CX and what they can learn from their peers to create best in class customer experience.
NPS Benchmarking in the Insurance Industry
Customers interact with insurance providers across many touchpoints, from shopping for quotes to filing a claim with support teams. NPS data can help insurance companies evaluate how their CX compares to industry-leading insurance providers and identify specific episodes where customer sentiment drops off or fluctuates.
Insurance has one of the highest average Net Promoter Scores, with a 2022 average of 28 in the US based on benchmarking data from Bain and NPS Prism®.
Equipped with internal and external insights, insurance companies can make informed decisions on the best way to delight their customers and get ahead of the competition across sales, support and ongoing customer service.
NPS Benchmarking in the Grocery Industry
NPS data helps grocers understand customer experiences by channel, membership status and transaction type and gather feedback related to:
Redeeming coupons and paying credit card bills
Signing up for and acquiring perks through

store loyalty programs
Grocer relationship scores hit an average of 33 in 2022 based on Bain's analysis of over 50K consumers shopping with over 40 grocer brands.
From in-store to online shopping and membership programs, grocers can use NPS to gain in-depth customer insights and improve customer experiences from cart to checkout and everywhere in between.
NPS Benchmarking in the Consumer Banking Industry
Customer experience is integral to successful banking operations, especially as consumers grow accustomed to digital, highly personalized banking solutions. Consumer banking brands use NPS benchmarks to understand where they lead and lag in customer experiences compared to both traditional and disruptive institutions in the consumer banking and payments space.
According to research from NPS Prism, the average NPS in US consumer banking for 2022 is 33.
Banks can leverage NPS survey data and advanced analytics to understand customer experiences across a breadth of products and services, from account management to credit card processing and third-party buy now, pay later solutions.

NPS Benchmarking in the SMB Banking Industry
Similar to consumer banking, SMB banking brands must pay close attention to customer experiences, relationships and NPS to ensure retention and protect their reputations. What's more, these B2B financial institutions often deal in more complex services and agreements than their B2C counterparts, which means clear, direct customer support is critical for a successful engagement.
The latest NPS data from Bain & Company shows that scores amongst US SMB banks are typically higher than scores in consumer banking, with an average score of 43 for 2022.
Brands can use overall benchmarks and supporting experience scores to evaluate feedback from customers across organizations. From reviewing transactions or redeeming rewards points, NPS can help SMB banking entities understand how to better support their clients and get ahead of the competition.
NPS Benchmarking in the Airline Industry
In the airline industry, there's more to fostering positive customer experiences than keeping flyers safe and happy in the air. NPS data can help airline brands evaluate customer feedback across multiple customer journeys, from online booking to post-travel follow-ups.
NPS Prism's latest benchmarking data consolidated feedback from over 40K flyers to produce an average relationship NPS of 50.
Airline NPS benchmarks can help companies understand how they stack up to competitors and give them the insights they need to rise above other brands in the industry. Airline brands can use industry averages to see where they lead and lag in CX, then leverage real-world customer feedback to make informed improvements on the ground and in the air.
NPS Benchmarking in the Automotive Industry
There are many experience scores that automotive companies should measure and benchmark to understand their position in the market — and identify opportunities to enhance their CX strategies. Automotive companies can access NPS survey responses and benchmarking data to understand customer experiences across:
Purchasing
Finance
Ownership
Service
In-Vehicle Experience
Overall NPS benchmarks in the industry are relatively high, with 2022 averages reaching 61 amongst US-based mass and luxury auto brands.
Automotive retailers can leverage NPS to unlock consumer and competitor insights into various customer journeys across the automotive industry. NPS data allows companies to identify CX wins and shortfalls, beginning with customers' first shopping experiences and throughout the long-term relationships they develop with the dealers who service and maintain their vehicles.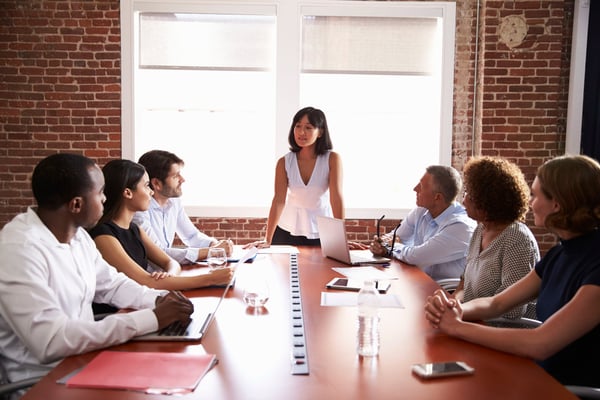 How to Get Even More Out of NPS: NPS Survey Analysis
Industry benchmarking isn't the only way to extract lasting value from your company's NPS results.
NPS survey analysis provides a deeper look at customers' survey responses across experiences and relationships so you can understand the "why" behind your scores.
By analyzing quantitative and qualitative NPS survey responses, you can identify strengths and areas of opportunity when it comes to customers' satisfaction with your brand, products, or services.
NPS survey analysis can help you understand the "why" behind your NPS by taking a deeper look at customers' survey responses across experiences and relationships.
You might choose to categorize responses by channel to determine which feedback channels garner the best survey participation rates and which ones have the highest experience NPS.
Invest in qualitative analysis and review of your customers' open-ended survey responses, such as why they rated a certain experience the way they did or why they'd be willing to recommend your business to someone else. These findings can help inform CX improvements by giving you firsthand insight into how customers perceive and interact with your brand across episodes and experiences.
NPS data analysis can help your organization dive deeper into the quantitative findings of your NPS surveys and benchmarking exercises.
Identify Trends and Improve Forecasting With NPS Data Analysis
While your NPS is a critical metric to track, it's not the only piece of NPS data that can add value to your organization. There are multiple NPS data points that can help you collect and understand detailed customer insights.
NPS data analysis can help your organization dive deeper into the quantitative findings of your NPS surveys and benchmarking exercises. It allows your organization to identify trends over time periods, product suites, customer segments, and more.
You can conduct analyses to study:
Scores according to how long respondents have been customers

Scores according to purchase levels or account "tiers"

Scores according to age, gender, or other demographics
You might use advanced analytics software to produce topic or sentiment analysis reports that can identify potential survey errors or biased NPS data before it impacts your decision-making.
These reports are valuable for prioritizing survey feedback by order of importance or potential risk level, i.e., prioritizing follow-up with a Promoter who provided negative feedback on a recent NPS survey before attempting to convert a long-time Passive into a raving Promoter.
Speaking of Promoters, Passives and Detractors, NPS data analysis enables you to assess NPS respondent distribution beyond the percentages you'll calculate to determine your final score. It's not enough to know that your numerical relationship NPS is 65; you should also look at how many respondents fall into each category.
How to Use Your NPS Report to Improve Customer Experience
Managing Promoters, Passives, and Detractors
It's essential to follow up with the customers who respond to your NPS surveys, whether they left a raving review or expressed immense dissatisfaction with your organization.
Promoters may appear to be on the path to continued happiness and contentment, but these loyal customers still need to be nurtured and supported effectively to maintain their top-tier status. Show your Promoters appreciation for their loyalty — even a simple "thank you" email goes a long way. You might also ask them a few follow-up questions about their scores and responses to see what you should keep doing in your interactions with them and begin doing in your interactions with other customers.
While Passives may not be actively planning their exit strategy, they've likely encountered a few bumps in the road when interacting with your company. You'll want to follow up quickly and sincerely with them to understand how you can get the engagement back on track. Coach your customer success teams on how to ensure Passives feel heard and how to raise their follow-up feedback to CX and leadership teams.
You have two options for managing Detractors: you can convert them into higher-scoring customers, or you can minimize the impact of their negative sentiment. Either way, follow up to ask what went wrong and how they'd like your company to address the situation. At a minimum, you can defuse the situation and prevent them from negatively affecting your reputation through word of mouth. In some cases, you may be able to improve their experience and use your learnings to improve other customers' experiences down the road.
Making Informed CX Enhancements
Every organization wants to take advantage of opportunities for CX enhancements, but it can be challenging to identify which initiatives will be the most beneficial for your brand and its customers.
Rather than facilitating an endless stream of internal discussions or developing CX strategies based on your teams' best guesses, you can use your NPS report to make data-driven decisions about the next best steps for your organization.
You'll be able to base CX improvements — like tweaks to your site's UI, a new self-service support channel or fewer automated email updates — based on recent, reliable feedback from real customers, not generic industry trends or your teams' personal instincts.
Each time you collect NPS survey feedback, you're gaining priceless insight from people across your customer base. NPS surveys can help you better understand how customer journeys tie back to customers' overall impression of your brand and collect unbiased feedback into every element of your CX, from service delivery to help desk support and every touch point in between.
Unlock Actionable NPS Benchmarking Insights With NPS Prism
NPS Prism's powerful NPS benchmarking platform reveals the "why" behind NPS, enabling companies like yours to make informed decisions that translate into real business outcomes.
Developed by the inventors of NPS, our solution shows you how your scores compare to peers and competitors in your industry and gives you clear, up-to-date information to help you make impactful customer experience improvements.
Leverage NPS leaderboards to benchmark your scores against competitors and monitor industry trends over time. Tap into KPI tracking and custom dashboards to continually monitor and improve the customer experiences that matter most to your business — and your end users.
NPS Prism's data is backed by Bain & Company research and updated regularly to ensure your benchmarking analyses always reflect the latest industry insights.