December 30, 2022
6 minute read
Supply Constraints and Rising Costs Lead to rNPS Decreases for Luxury Vehicle Brands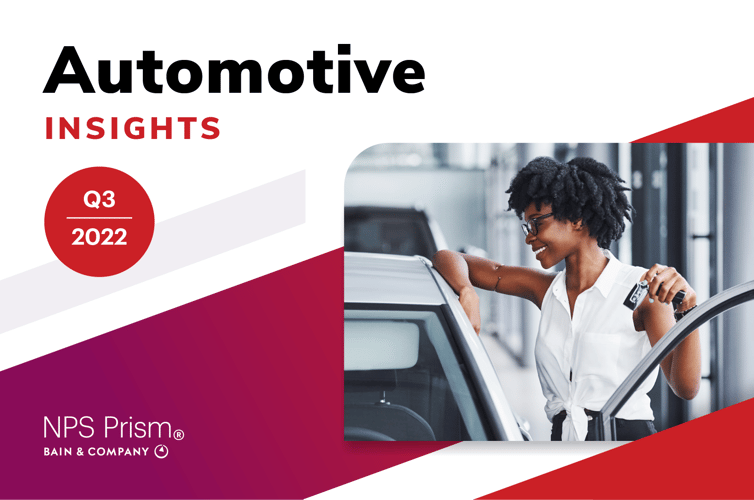 An increase in the value of used cars, a worldwide transition to electric vehicles (EVs), and an increase in online buying efficiency have all contributed to shifts in customer experience (CX) in the auto industry.
Plus, auto companies are still experiencing inventory issues due to microchip supply constraints, and OEMs have to prioritize chip placement. Ford, for example, has vehicles with the auto start and stop features removed. Likewise, Buick had to remove under hood insulators in the Enclave.
As a result, prices have remained high overall. While pricing in the used market has come down recently, it's still nowhere near as low as before the microchip shortage. Shortages have impacted service, too, leading to a lack of parts for necessary repairs and recalls.
To uncover these market changes and help manufacturers adapt, NPS Prism collected and analyzed US automotive industry trends from Q3 of 2022. The benchmarking data compared the NPS scores of top auto manufacturers. These insights show shifts in brand and customer loyalty.
Here's a look at our most notable trends from the last quarter and actionable takeaways your team can use to improve customer loyalty, satisfaction, and CX.
The Trends
Major Market Shifts in Relationship NPS
Top luxury manufacturers are seeing a significant decline in customer satisfaction as market leaders change.
With top brands offering new vehicle attributes and more technical features for less money, the auto industry has seen big changes in leadership in Q3 of 2022 compared to Q2.
Tesla lost their top position in the industry as a decline in relationship NPS (rNPS) was seen across all vehicle classes.
Lexus surpassed Tesla to become the industry leader in rNPS. This was primarily due to an increase in Lexus customer satisfaction for SUVs and used vehicles for vehicle build and value for money.
There was a decline in satisfaction among Tesla customers for multiple vehicle attributes including interior, technical features, build, and value for money.
BMW's rNPS declined from 73 to 63 primarily due to used vehicles. New vehicles also declined, as did all vehicle classes.
Acura moved to the top quartile in Q3. Improvements were seen for both new and used vehicles, especially in sedans and SUVs.
Acura improved across multiple episodes including "researched models," "navigation system," and "entertainment".
GM brands' rNPS and rankings remained stable with no significant changes observed across vehicle class, 2018+ model years, or new vs. used.
Negotiations Are On The Table
Customers expect dealers to negotiate openly and quickly, wanting more value for their money.
When comparing Q3 2021–Q2 2022 to Q4 2021–Q3 2022, episode NPS performance remained stable across Original Equipment Manufacturers (OEMs).
Multiple changes were observed for "negotiated with dealer." Mazda, Subaru, and Jeep improved for this episode, while Toyota declined. These changes were primarily driven by satisfaction with the overall deal and terms. Employee transparency, honesty, efficiency, and timeliness were also contributing factors.
GM competitors such as Ford, Toyota, and Subaru were stable overall.
Honda trended down across multiple episodes including "test drive," "negotiated with dealer," and "app."
Likelihood to Switch to Electric Vehicle Shifts for Select Manufacturers Year Over Year
Toyota improves to lead the electric vehicle mass market.
With the electric vehicle (EV) market becoming a stronger contender against internal combustion engine (ICE) vehicles, customers are considering making the switch. This is especially true of vehicle owners likely to trade in their current vehicle within the next 12 months.
When comparing electric vehicles in Q2-Q3 2021 vs. Q2-Q3 2022, Toyota moved up to lead the mass market. Cadillac and Chevrolet are also trending up, while Buick and GMC remain stable.
No significant shifts were felt in mass market average likelihood as numbers hold steady at 49%. Toyota comes in at 58% in the lead, followed closely by Ford at 56% and Mazda not far behind at 55% of the total market.
There was a 10% increase in the luxury market average likelihood from 58% to 64%. Audi leads the market at 79%, with BMW at 77%, and Acura at 66% of the total market.
The Takeaways
Stay Focused on the Customer Relationship
Take a proactive approach in analyzing feedback to grow customer sentiment and loyalty.
Evaluating relationship NPS metrics like satisfaction and sentiment helps you see how you rank against competitors.
Collecting information on automotive manufacturers, service providers, and lenders will help you better navigate what your customers want, how valuable they feel your offerings are, and how to win new business.
Tracking these scores and the bumps customers experience will help you correct wrongs faster, fuel continuous customer relationship improvements, and create a smoother path to purchase for future prospective customers.
A Customer Win Is a Dealership Win
Companies who offer better deals, negotiations, and overall experience are the ones coming out on top.
Manufacturers and dealers should stay transparent and honest during all parts of a deal. Buying a vehicle is a big decision, and OEMs that offer a positive holistic experience are seeing better episode NPS results.
Are there any parts of the journey that you could refine? Place yourself in the customer's shoes and consider specific components of the journey, like the test drive or in-app experience. These are areas where we've observed loyalty and a satisfaction shift.
Evaluate NPS and focus on aspects of the customer journey that may fall through the cracks. Offer human touch points when it would add value and work to solve your customer's needs instead of just closing a deal.
See What's Trending in the Automotive Industry With Insights From NPS Prism
Noting a rise in the worth of used cars and a growing customer expectation for seeing value in their purchases, it's no secret that the automotive industry is feeling the shifts of a changing market. As industry leaders change, investing in customer feedback and competitive analyses is more critical than ever.
Gain customer perspective and actionable direction with NPS Prism's CX benchmarking platform. Uncover areas along the journey that keep customers happy and those that need to be refined or reworked. Give your CX team the ability to track sentiment and how your experiences compare to the competition
Source: NPS Prism US Automotive Survey Q3 2022 n= 15,000
Stay Up to Date on the Latest in CX & NPS Benchmarking
Subscribe to our blog to learn about all the major industry trends revealed by NPS Prism data.