January 19, 2023
7 minute read
How to Combine Competitive NPS Data With Internal Data to Drive CX Improvements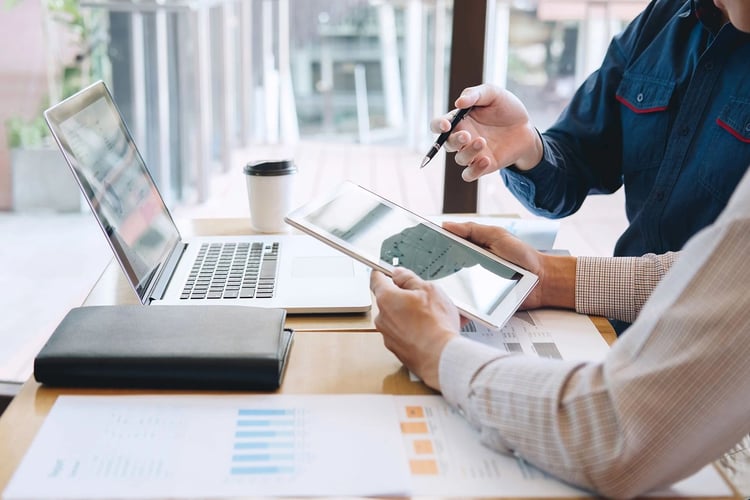 Net Promoter Score (NPS) is a single, easy-to-understand metric created by Bain & Company. It predicts overall company growth and customer lifetime value by measuring customer loyalty.
You're probably using some form of NPS data within your company, but 3 types drive decisions for solid customer relationships.
By understanding the importance and benefits of customer benchmarking, relationship, and experience NPS, you'll be on your way to delighting customers and reaching your growth goals.
It all starts with the likelihood-to-recommend question - the "Ultimate Question" - and the basis for calculating a company's NPS. Now that it has been well over a decade since the score was first introduced, thousands of companies, including two-thirds of the Fortune 1000, are calculating their scores.
Here's a look at the information you should be collecting to see a holistic customer story.
The 3 Types of NPS Data
Nothing alone is a comprehensive solution, which is why leaning on all 3 data sources helps achieve a well-rounded understanding of your customer. Collecting the right customer data can also help you understand which customer journeys delight your audience and, more importantly, which ones you should optimize to improve the overall experience
Each data type is strategically crafted to inform different priorities depending on your unique business and customer needs. It's a continuous effort to transform your customer experience.
While most companies focus only on relationship and experience NPS, competitive benchmarking is an essential data type and a necessary component of unlocking critical information. Let's look at the 3 data types, beginning with competitive benchmarking.
Competitive Benchmarking
Competitive Benchmarking is a crucial piece of customer feedback that connects you to broader market research so you can see how you rank against your competitors and better understand the Voice of the Customer (VoC) on all sides of the spectrum. VoC data ensures that data-driven insights back your Customer Experience (CX) roadmap.
Competitive benchmarking takes your competitors' double-blind scores and compares them against yours. By analyzing these scores, you always know where your business stands relative to your competitors.
Competitive benchmarking also eliminates company bias that may come up when surveying your own customers. Only some people will take the time to answer a survey to the best of their ability. While this feedback is essential to collect, it is equally crucial to consider biased opinions to ensure that you receive "clean" data.
Having a competitive benchmarking solution as a part of your overall efforts provides crucial visibility into what respondents think about an entire market factor or value proposition.
Relationship NPS
Relationship NPS collects respondents' data about general customer sentiment and customer-to-company relationships. Feedback is collected once or twice a year to prompt continuous improvements in overall satisfaction.
Since there is already an established history between the responder and the company, this feedback is used to inform loyalty economics, which evaluates how much a customer is worth to your business. This information is key for maintaining customer loyalty and gauging periodic sentiment.
Insights could include surveying customer satisfaction, happiness, and brand loyalty. Relationship NPS is a primary input of continual closed-loop feedback practices, which will help you make informed, strategic decisions as you take a proactive approach to building the best customer experience.
Transactional NPS
Looking at high-level relationship data and competitive benchmarking sheds light on consumer behavior, but it doesn't tell the whole story. Transactional NPS, also known as experience NPS, is different from relationship NPS in that it revolves around specific customer occurrences, such as a support call or a purchase.
This could be a prompted satisfaction survey after a call with a customer service representative or a "how did we do" survey after a purchase. The survey provides an opportunity to improve the customer journey, whether their experience was positive or negative. It gives your company the chance to right a possible wrong before potentially losing a loyal customer.
Use transactional NPS surveys strategically. No customer wants to spend more than a few minutes taking a satisfaction questionnaire or get blasted with survey after survey. It's important not to overload customers as doing so creates its own negative experience.
Focus on the areas that have the most customer impact and room for improvement. Having the ability to customize the frequency of these surveys ensures that you're not reaching out to the same people more than once every few months.
Without NPS data, it's difficult to make and back strategic CX decisions. Pulling data from a multitude of touchpoints, including product reviews, customer service interactions, surveys, and other areas gives you a holistic sense of what is and isn't satisfying your customers. From there, you can analyze this data to get a better sense of sentiment analysis, behavioral trends, friction points, and your NPS.
Typical VoC Tech Stack
Let's take a look at a typical VoC tech stack and how NPS data comes into play.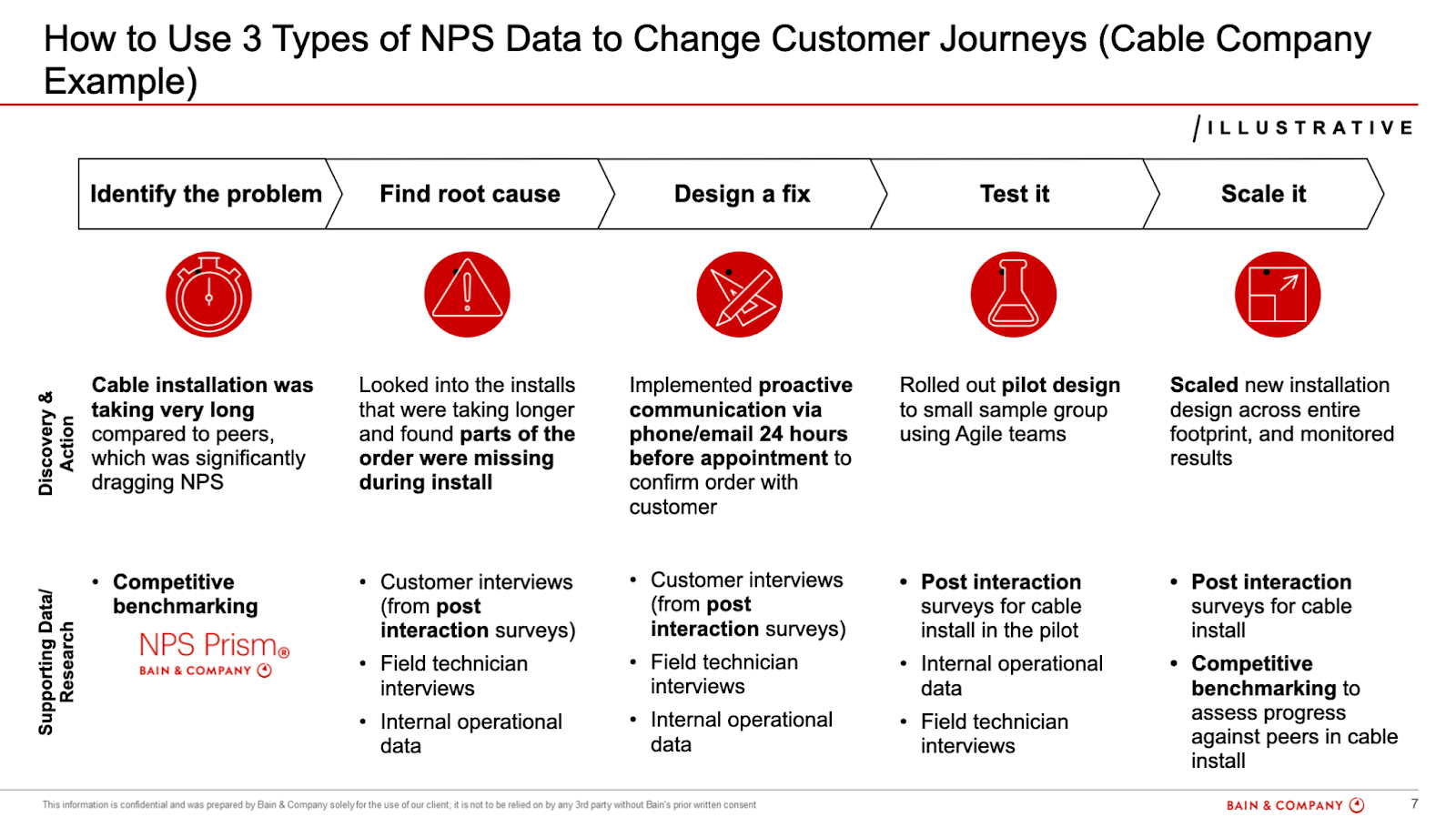 Operational Data includes data derived without having to ask a customer directly. For example:
Customer wait time
Percentage of customers returning items
Which customers were charged a fee
Unblinded Customer Feedback Related to an Event (Qualtrics/Medallia) comes as a survey, triggered after a specific action and trigger workflows.
Unstructured Data includes feedback from customers that the company did not have to ask for, via:
Social media
Online reviews
Benchmarking (NPS Prism) Data tells you where the most important places to measure are. We help you identify gaps and determine which journeys matter.
Transform Your CX With NPS Prism
Ensuring your business is gathering quality customer data takes more than guesswork. NPS Prism helps you collect, visualize, and analyze key data sources so you can transform your CX. Our step-by-step process identifies problems, finds the root causes, designs a fix, and tests and scales solutions.
At NPS Prism, we give our clients a clear way to benchmark NPS. Our solution is built on tried-and-true CX methodologies and is backed by Bain & Company's game-changing technology. Discover which journeys matter most to your customers, where improvements need to be made, and see actionable data on customer sentiment.
Learn how NPS Prism can guide your organization's optimization and transformation for loyal and happy customers. See how NPS Prism fits into your CX strategy today.
Stay Up to Date on the Latest in CX & NPS Benchmarking
Subscribe to our blog to learn about all the major industry trends revealed by NPS Prism data.