July 15, 2022
8 minute read
When to Go Digital and When to Stay Human? An NPS Analysis.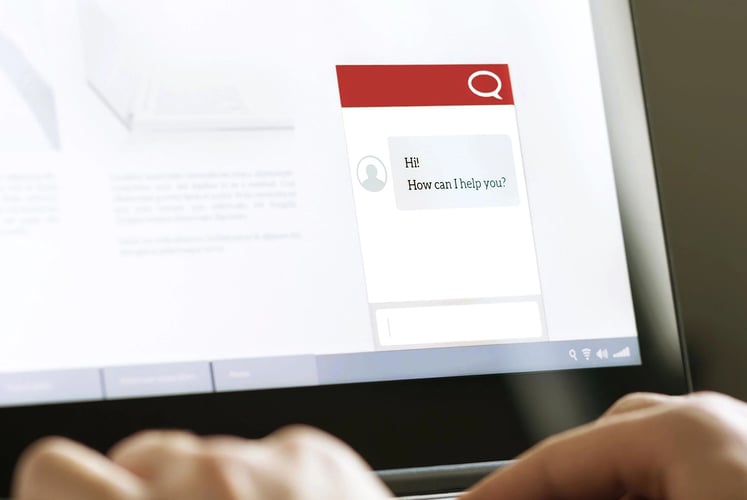 At one point or another, most of us have experienced the frustrations that come with a company's digital touchpoints. No matter how thoroughly you outline your issue or clearly say, "representative", the robot on the other end just doesn't seem to get it. Still, regardless of industry and scale, digital transformation is a hot topic for most companies.
But can companies go overboard by replacing every human touchpoint with a digital solution? Technology has the power to simplify and streamline the way you run your business, but how it can be used to shape the customer experience is still up for debate.
Let's take a closer look at how certain customer journeys are better served with digital solutions and how others are best left to people. Here, we break down the customer experience into four categories of journeys.
For Everyday Touchpoints - Digital
Everyday touchpoints in a customer's journey should be handled through digital solutions, not only to streamline the customer's individual experience, but also to save your business time and money. In the banking industry, these include interactions like transferring funds, depositing checks, or replacing a lost credit card - things that take little time, and are relatively standard and therefore shouldn't require human assistance.
NPS Prism data show that in order for a digital touchpoint to be effective, it must be easy, reliable, and efficiently address your consumers' needs without having to reroute them to a human channel
People prefer their everyday interactions to be digital - the Net Promoter Score® for opening a checking or savings account is 53 when completed successfully in digital channels, but just 39 when done through a bank's contact center where human assistance is involved.
The data also support the tremendous cost savings - the cost of enabling a customer to open a checking or savings account through digital channels is 80% to 90% cheaper compared to in-person or over-the-phone channels.
For Sales Touchpoints - Digital
Customers today are increasingly reliant on digital channels to inform their purchasing decisions. Once the gatekeepers of company information, sales representatives are now working with an audience who is empowered to make decisions based on their own due diligence. This begs the question — what is the most effective role for salespeople in this new dynamic?
92% of B2B buyers prefer virtual sales interactions.
In a variety of industries, we've seen companies embrace the digital sales experience, and their consumers prefer it, too. A 2021 global Bain & Company survey, conducted with Dynata, found that 92% of B2B buyers prefer virtual sales interactions. The financial services industry is one example of this, where many global banks have been able to lower their digital failure rates significantly by replacing human-led sales with digital journeys (digital failure rate analyzes the number of customers who tried to use a digital solution to accomplish something, but inevitably ended up in a human channel).
One of our banking clients has had great success with implementing digital tools to both expand their digital sales and delight customers. Our client's hidden defection on loans decreased from over 50% in 2016 to about 35% in 2019 because they grew its digital sales percentage from ~30% to well above 50%.
That being said, embracing digital sales may require more legwork to implement compared to the everyday touchpoints. If they fail digitally and move to a human channel, it negatively impacts the NPS and/or adds friction to the journey, all of which can negatively impact your NPS. So before making the leap, make sure your company has clear processes and systems in place to ensure digital sales run smoothly. NPS analysis can help you identify how your digital sales channel should be constructed.
For Disputes - Human & Digital
Resolving complex or emotionally charged disputes can be tricky. If an airline customer wants to know why they were charged a certain fee or a banking customer needs guidance on closing an account, how you navigate those interactions — and through which channels — can have a major impact on your Net Promoter Score.
NPS Prism finds that about 26,500 consumers believe that digital has emerged as the most-used banking channel for dispute or advice episodes. However, in many situations, a human touch can go a long way in delivering a good customer experience. NPS analysis on the above survey reveals that respondents who started digitally but ended by speaking with an employee gave higher loyalty scores than episodes that were exclusively digital.
For Advice - Human & Digital
While companies are already making strides in implementing digital sales and routine touchpoints, providing customers with tailored advice is a bit trickier. Founder of NPS Prism, Jason Barro, says, "Institutions are eager to find similar success with digital advice and disputing as they have with digital sales. But the technology isn't there just yet, which means organizations should look to take a hybrid approach to advice and disputes, one that seamlessly connects digital and human channels for an optimal customer experience."
"Organizations should look to take a hybrid approach to advice and disputes, one that seamlessly connects digital and human channels for an optimal customer experience."

Jason Barro | Founder, NPS Prism
How you address advice and disputes with your customers can make all the difference in how they view your business. The airline industry is a good example. One of our airline clients (Airline A) was keeping 17% of its customers on hold for 30 minutes, which was negatively impacting their NPS. They optimized their impactful customer journeys to ensure hold times were shortened. This, in turn, boosted Airline A's first contact resolution rate to 22%, and shot up their jNPS score to 24.
Advice and disputes are often emotional events, which is why you need to be careful when pushing digital for these touchpoints. Consumers will quickly become irritated if you only give them digital options for resolving their questions or concerns, so ensure that your audience can be transferred from robot to human seamlessly and simply.
How to Measure NPS Improvements
Measuring the effectiveness of your digital versus human touchpoints requires different approaches. With digital, you'll want to keep a close eye on your speed and success rate. NPS Prism data on the U.S. banking industry reveals that banks who had customers wait more than five minutes to dispute a bank fee through a digital channel suffered a 33-point jNPS penalty. Digital channels that were not rated as "easy" or "user-friendly" suffered a 106-point jNPS penalty.
When human intervention is required, speed is still important, but empathy also comes into play. Companies that effectively use digital channels to improve the customer experience know where and when customers need to be transferred to a human channel. Take the following NPS Prism data points on U.S. banks, for example.
Failing to resolve disputes in the same day: -31pts jNPS penalty
Human representatives not rated as empathetic: -105pts jNPS penalty
Customers that don't feel empowered to avoid future fees: -84pts jNPS penalty
It's perfectly acceptable, and sometimes necessary, to move customers from a digital to human channel in certain situations. Just make sure the transition is seamless and simple on the customer's end to avoid frustration.
For example, if a customer is becoming frustrated with a chatbot who isn't able to meet their needs, your company needs to quickly move them to a representative who can demonstrate a bit of compassion and empathy to make things right. Blending process excellence with people excellence can do wonders for your NPS.
For questions on how to effectively gauge the performance of your digital and human channels and conduct a journey-level NPS analysis, NPS Prism is here to help. Schedule a time with our team to learn more about our CX benchmarking platform.
Stay Up to Date on the Latest in CX & NPS Benchmarking
Subscribe to our blog to learn about all the major industry trends revealed by NPS Prism data.