October 28, 2022
9 minute read
Value-Focused Grocers See Increases in rNPS and Share of Wallet: Explore These and Other Leading CX Trends in Grocery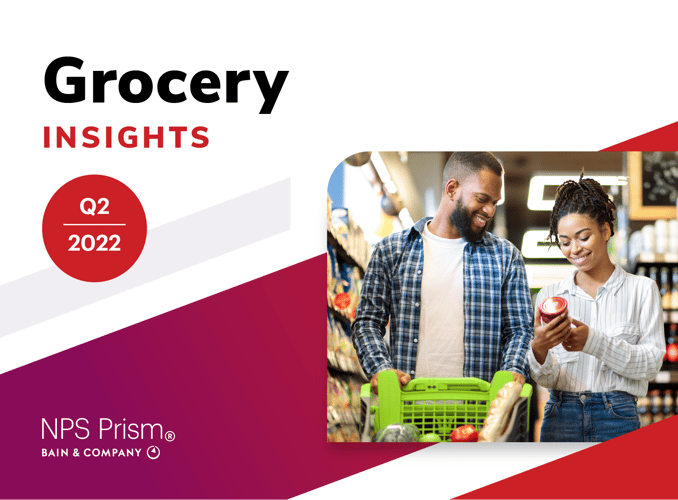 As inflation persists and prices rise, grocers are closely monitoring how more expensive products and more frequent, smaller shopping trips impact customer experience (CX). Brands must capitalize on opportunities to boost NPS and customer loyalty by ensuring their products and shopping experiences align with consumers' ever-evolving expectations.
To help grocers continue to craft winning experiences, NPS Prism analyzed grocery experience trends for Q2 of 2022. We based our analysis on direct survey feedback from 20,000 grocery consumers. Our insights for this quarter center around trends associated with pricing changes and customers' perceptions of value.
We'll share our top CX insights for the grocery industry and provide actionable takeaways CX teams can use to increase NPS, maximize value, and navigate pricing conversations with shoppers.
The Trends
Inflation is Causing Grocery Customers to Rethink the Cost-to-Value Balance
Grocers known for higher prices saw a decline in relationship NPS (rNPS) between Q2-Q3 2021 and 2022.
Inflation significantly impacted the cost of food and consumer packaged goods (CPG), cutting into grocers' profits and changing consumers' buying habits. Customers are being more cautious about their spending as a whole, but they're also rethinking the cost-to-value balance across many purchases, including their regular trips to the grocery store.
Rather than sticking to their long-time favorite products or prioritizing quality above all else, customers want to shop with grocers that offer the best everyday low prices and the best value for their money.
Grocers known for low prices and providing the best value for the customer's money saw a two-point increase in rNPS at the beginning of 2022.
At the same time, grocers known for high prices saw a corresponding directional two-point decrease in rNPS.
Key purchasing criteria for grocery customers:
The best everyday low prices
The best value for their money
Regular Grocery Trips Are Becoming More Popular Than Big, Stock-Up Trips
In Q2, the mission mix started to shift more towards the regular grocery trip from the big stock-up trip.
While many customer buying habits are changing on a micro level — through shifts from one brand or price point to another — many grocery customers are also changing the frequency and overall mission of their shopping trips.
During Q2, customers began shifting their shopping habits away from big stock-up trips and toward more frequent, regular grocery trips. This resulted in more trips to the store and a lower average cost per trip.
Grocers known for lower prices and better value grew their share of the regular grocery shopping trip, while higher-priced grocers saw their share of the regular trip decrease.

On average, grocers known for lower prices have gained 1.3 points in share of wallet since Q2 2021, while high-price grocers have lost 1 point of share of wallet.

But with customers taking more trips to their grocers, checkout wait times increased across the industry.

Fortunately, grocers with "scan-and-go" checkout experiences avoided this increase in checkout wait time and the subsequent CX shortfalls associated with long lines.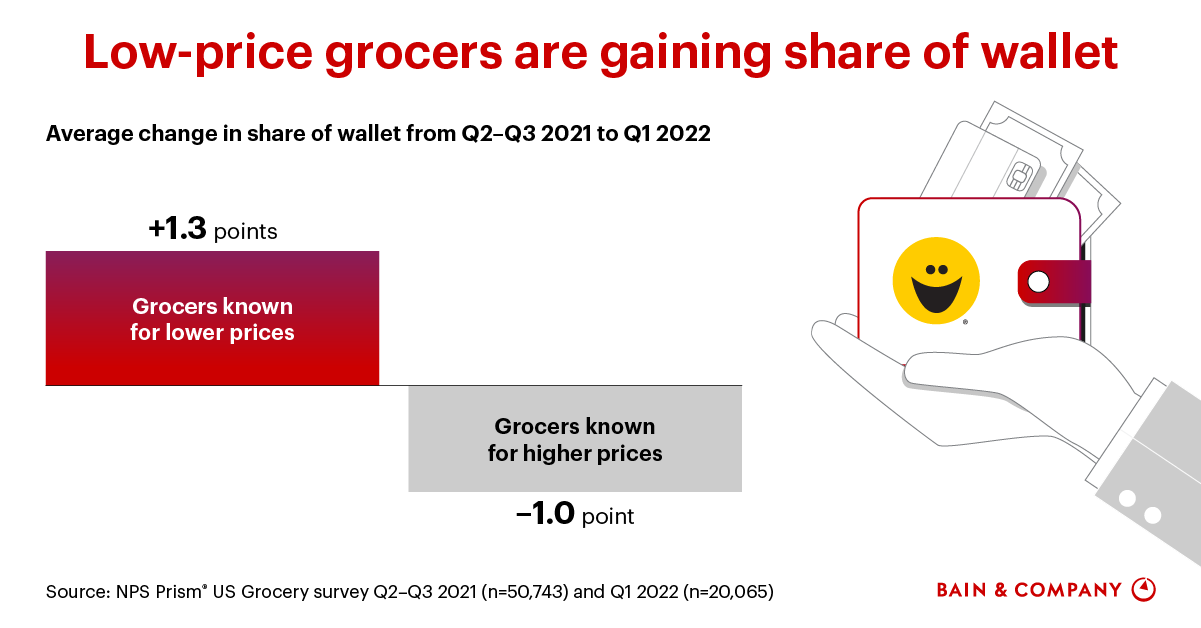 Grocery Customers Are Prioritizing Lower Costs Over Brand Loyalty
More customers would rather buy the cheapest brand than pay more for their favorite brand.
In a predictable market, brand loyalty goes a long way in helping grocers and other organizations sustain growth and lead amongst their competitors. Unfortunately, this sentiment doesn't always persist in an inflationary environment.
Today's customers are looking for new ways to minimize costs and get more value for every dollar they spend. When wallets tighten and prices rise, customers are more likely to buy the cheapest brand available than they are to pay more for their favorite brand, even if it means moving away from the products they know and love.
---
Keep Up With the Latest CX Trends in Grocery
Subscribe to future grocery updates to get quarterly CX insights delivered straight to your inbox.
---
The Takeaways
Keep a Pulse on Customer Sentiment
Promoters spend an average of $60 more per month at the grocery store compared to Detractors.
As the market continues to evolve, customers' needs, expectations and preferences will evolve in turn. Grocers that continue to rely on their traditional approaches to pricing, promotions and other cost-focused elements of CX won't be able to retain or expand their customer base.
Grocers should dive deep into customer insights, including consumers' perceptions of the costs and overall value of various grocery products. Specifically, they should focus on CX insights related to:
Pricing and Price Changes
Perceptions of Value
Brand Loyalty and Trust
Grocers' can use real-time customer feedback to identify which grocery experiences are contributing to customer retention or churn, so they can adjust their CX strategy accordingly and look for informed ways to build trust and loyalty with customers, even as their shopping habits and grocery budgets change significantly.
Replace Expensive, Brand Name Products With Private-Label Alternatives
Grocers should mirror customers' focus on price and value when sourcing and stocking products.
Inflation opens the doors for new business models and alternative products to enter — and lead — in various markets. However, that doesn't mean these products must enter the market through entirely new channels. Grocery stores can boost customer satisfaction and reduce their business costs by investing in products that deliver the same quality as brand-name goods at a lower price point.
Grocers should take advantage of affordable, private-label products and bring them to market in place of more expensive alternatives. To determine which products customers are most likely to buy from a new label, they'll likely rely on a combination of competitive insights, market trends and performance data from their own stores.
Account for a Higher Volume of Shopping Trips and Longer Checkout Wait Times
Customers expect to wait no longer than five minutes in grocery store checkout lines.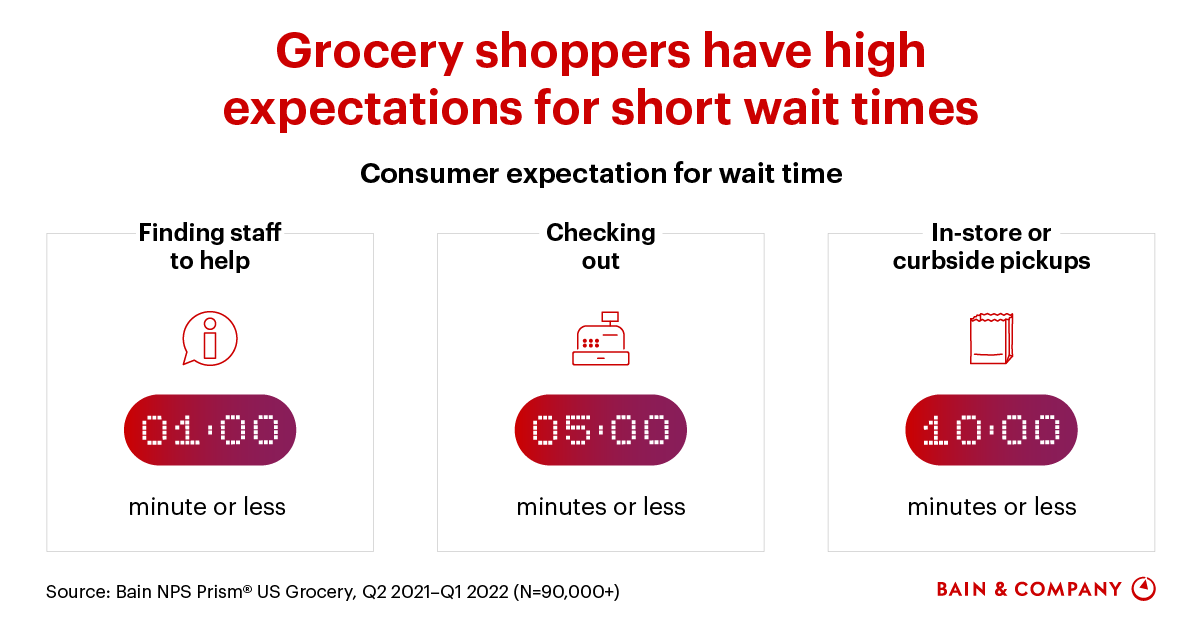 "Scan-and-Go" checkout technology allows shoppers to skip the line and enjoy a frictionless shopping experience on their mobile devices. Scan-and-go apps enable self-checkout from a customers' cell phone, seamlessly combining all the best elements of online and in-person shopping.
As of right now, scan-and-go options are typically exclusive to loyalty club members, and still augmented by redesigned self-checkout lanes with scales for produce, bulk and other weighted items. Shoppers simply scan their items and the digital scale with their phone, pay through the app, and scan a final confirmation QR code as they exit the store.
Grocers across the country are implementing scan-and-go to move customers through the store quickly and help them avoid long checkout lines.
This speedy, self-service option is increasingly valuable as today's consumers prefer to visit the grocery store for frequent, small shopping trips rather than a few larger "stock-up" trips throughout the month.
Navigate the Latest Grocery Experience Trends With NPS Prism
As the market continues to evolve, grocers should invest in customer feedback and competitive analyses to meet their customers' needs and keep up with changes in the industry.
NPS Prism's CX benchmarking platform reveals the "why" behind NPS, helping your organization unlock in-depth customer feedback and industry-specific NPS benchmarks. These insights show you exactly where you lead or lag against the competition in CX, and where you can make impactful experience improvements that align with your consumers' expectations.

Source: NPS Prism US Grocery Survey Q2 2022 n= 20,000
Stay Up to Date on the Latest in CX & NPS Benchmarking
Subscribe to our blog to learn about all the major industry trends revealed by NPS Prism data.