November 22, 2022
7 minute read
Carriers Look to Mitigate eNPS Declines Amidst Increasing Premiums: See How Inflation and Other Trends Are Reshaping CX in Insurance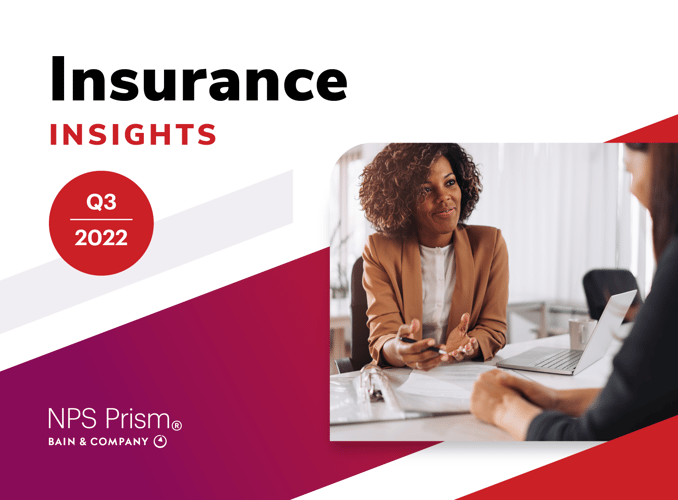 As inflation perpetuates significant premium increases, insurance carriers must stay focused on customer experience (CX) to improve customer sentiment and loyalty.
To help P&C carriers respond to recent shifts in the market and resulting customer feedback, NPS Prism analyzed insurance customer experience trends for Q3 of 2022. Our analysis was based on unbiased, direct survey feedback from 15,000 insurance consumers. We focused most notably on trends associated with premium increases and related NPS scores, as well as opportunities within digital channel experiences.
We've compiled our top insights from the last quarter and developed actionable takeaways CX teams can use to navigate ongoing premium increases, increase NPS and improve customer experiences as the market continues to evolve.
The Trends
Premium Increases Are Causing Significant Experience NPS (eNPS) Declines
Auto and Home eNPS declined ten points in 'renewal' and "purchase' experiences between Q1 and Q3 2022.
Inflation has shifted the trajectory of the global economy, impacting nearly every industry and market segment. The insurance space, in particular, has seen steep premium increases across coverage types.
As of Q3 2022, 33% of Auto and 45% of Home customers experienced premium increases.
Premium increases are primary drivers of negative sentiment and can significantly damage carrier-customer relationships:

These episodes are more likely to annoy customers, especially in Home.
Customers report worse purchasing and renewal experiences as premiums rise.

Renewal has taken the most significant NPS hit due to premium increases.

In Auto, renewal eNPS has declined more than ten points since Q3 of 2021.
Home renewal eNPS declined significantly in Q4 2021 and hasn't recovered since.
Shopping and purchasing journeys have also suffered, with both Auto and Home eNPS declining ten points between Q1 and Q3 of 2022.
These journeys have likely contributed to declines in overall conversions in 2022 YTD.
Carriers Are Recovering From Dips in Digital Performance
In the Auto insurance space, call center performance across emotive episodes declined by five points in 2022.
Most of the insurance industry saw a dip in digital channel performance in Q1-Q3 2022.
The call center is an area of particular concern, where performance for emotive episodes, particularly in Auto, declined significantly in 2022.
Customers who interacted with call center reps were less likely to agree that the rep they spoke with was empathetic, responsive, and spent appropriate time with them compared to 2021.
While call center episodes have led to a decline in digital NPS for many carriers, digital claims episodes pose opportunities for them to recover channel performance.
Carriers' average speed to pay out Auto and Home claims may have remained stable between 2021 and 2022, but their customers are relying more on digital channels to file and follow up on these claims.
Digital penetration across Home claims episodes remained stable between 2021 and 2022.
Later-stage Auto claims episodes have experienced a 3% increase in digital penetration in 2022.
Even with increased traffic on digital channels, insurance carriers have improved digital failure rates by 5% in 2022, meaning they're continually adjusting digital CX to address evolving customer demands.
---
Keep a Pulse on CX Trends in Insurance
Subscribe to future insurance updates to get industry insights delivered straight to your inbox.
---
The Takeaways
Proactively Solve For Customers' Renewal-Related Frustrations
Auto and Home customers with an auto-renew option are 25% more likely to renew than customers without auto-renew.
As premiums increase and customers continue leaning into digital channels, carriers must be proactive in facilitating renewals for their customers. Carriers should use digital channels to communicate with customers at least 30 days before renewal, including clear updates about premium increases, coverage changes and any other details that may affect their renewal decisions.
Beyond upfront communications, many carriers find that auto-renewal options increase the likelihood of renewal and boost NPS amongst the customers who choose to renew. Auto-renewal options account for customers' preferences toward digital, self-service experiences and create a natural starting point for renewal conversations.
72% of P&C insurance customers opted into auto-renewal between Q2 and Q3 2022.
Customers enrolled in auto-renewal were 25% more likely to renew than customers who weren't enrolled.
Customers with auto-renew are 12% more likely to be Promoters than those without auto-renew.
Integrate Human Channel Experiences Into the Insurance Customer Journey
Insurance customers who use only digital channels give their carriers lower loyalty scores than multichannel customers.
Despite steady upticks in digital adoption, insurance customers remain heavy users of offline, human-led channels — like contact centers and in-person meetings. The value of these human channel experiences only increases as customers become more frustrated with their premium options when renewing or shopping for new policies.
However, insurers must strike the right balance between human and digital, merging innovative, convenient purchase experiences and empathic, personalized ones.
Carriers should evaluate NPS and customer feedback across specific episodes in the buying process, then make strategic decisions on where and how to integrate human touch points into digital-first experiences.
Stay Up-to-Date on the Latest Insurance Customer Experience Trends With NPS Prism
In times of pricing increases and market uncertainty, carriers should invest in customer feedback and competitive analyses to inform CX strategies that align with their customers' ever-evolving needs and expectations.
NPS Prism's CX benchmarking platform provides your insurance organization with in-depth customer feedback and custom NPS benchmarks that point you to the most impactful improvement opportunities, allowing your CX team to keep a pulse on customer sentiment and how your experiences compare to your competitors.
Footer: Source: NPS Prism US Insurance Survey Q3 2022 n= 15,000
Stay Up to Date on the Latest in CX & NPS Benchmarking
Subscribe to our blog to learn about all the major industry trends revealed by NPS Prism data.