June 26, 2023
7 minute read
Increased Insurance Premiums Lead to Double Digit pNPS Declines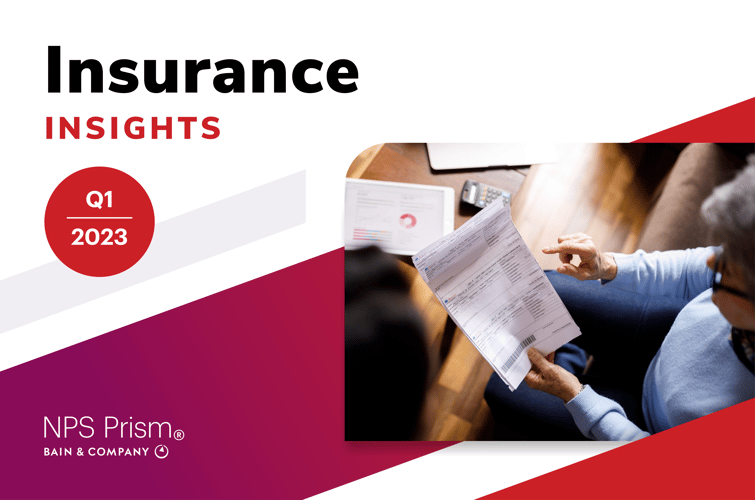 As inflation continues to affect consumer behavior, insurers must navigate how to foster customer loyalty amid rising auto and life insurance premiums.
NPS Prism data suggests positive auto claims experiences and receiving comprehensive advice from life insurance providers play a crucial role in fostering customer loyalty, even in this context. In this post, we'll delve into the impact of premium increases on customer loyalty, the power of positive auto claims experiences, and the role of advice in improving advocacy for life insurance customers.
We've compiled insights from our quarterly results showing how inflation is impacting NPS for more than 25 top insurance carriers. All data comes directly from over 15,000 insurance customers surveyed by Bain & Company's NPS Prism.
The Trends
The Impact of Premium Increases on Customer Loyalty
Auto insurance premiums continue to rise amidst inflation, with 19% of customers indicating that their auto insurance premiums rose at least 10% at renewal (Q1 2023). This increase in premiums correlates with declines in pNPS (product Net Promoter Score) and their likelihood to renew their policy in the future. For customers who receive any increase in premium, pNPS decreases by 22 points. When customers face a premium hike greater than 10%, pNPS decreases by 32 points.


To better understand the impact of premium increases on customer loyalty, it's essential to consider the various factors that contribute to a customer's decision to renew their policy besides premiums. In addition to the cost of premiums, the ease of staying with a provider because they've purchased other products, responsiveness to their individual needs, and the perceived value of the coverage they've purchased all have shown to impact customers' decisions to renew their policies. By addressing these factors, insurance providers have an opportunity to offset some of the negative effects of premium increases and maintain customer loyalty.
The Power of Positive Claims Experiences
NPS Prism data suggest that positive claims experiences can make customers four times more likely to renew, even when their premiums increase. Only 22% of claims detractors whose premiums increased indicated they were very likely to renew their policy compared to 86% of claims promoters (Q1 2023, rolling 4 quarters) who saw an increase in their premium at renewal. Furthermore, 13% of claims promoters cited their claims experience as their most important reason for renewal, versus only 9% for claims detractors (and 5% for claims passives).
Our research indicates that a positive claims experience can be achieved by ensuring that the claims process is transparent, efficient, and customer-centric. This involves providing clear communication about the status of a claim, offering support and guidance throughout the process, and resolving claims in a timely manner.
Optimizing the Claims Process
Even if claims payouts aren't as high as customers expected, NPS Prism data suggest that insurance providers can optimize the claims process by focusing on the following aspects:
Easing first contact after an accident occurs by notifying a repair facility and outlining the process for submitting a claim
Reducing the number steps involved in a claim, and ensuring it takes 2 or fewer days to deliver a response to the customer
Leveraging technology to streamline the claims process, such as mobile apps for submitting claims and tracking progress
The Role of Advice in Retaining Life Insurance Customers
Life insurance customers rarely receive advice from their insurance providers post sale. On average, only 21% of consumers report receiving any type of advice from their life insurance providers, and only 8% reported they received help from their provider about how to improve their health (Q1 2023, rolling 4 quarters). However, when customers do receive advice, NPS Prism data show it significantly improves customer advocacy. On average, rNPS (Relationship NPS, also known as Brand NPS) scores are 24pts higher when consumers engage in even just a single advice episode.
To enhance customer loyalty, life insurance providers should consider offering personalized advice and support to their customers. This may include providing guidance on selecting the right coverage, offering financial planning services, sharing resources for improving health and even just an annual check-in call with customers to understand any changing needs. By offering valuable advice, and engaging more periodically, insurance providers can strengthen their relationships with customers and increase recommendations to friends and family members.
The Takeaways
The Importance of Quality Agents
NPS Prism found performing well on advice episodes is largely contingent upon the quality of agents. Companies who perform best on agent quality, such as USAA and State Farm, tend to receive high agent scores on advice episodes like "had knowledge about relevant product," "provided useful recommendations," and "was responsive." To truly capitalize on the opportunity to foster loyalty, providers need to ensure their agents are prepared to have engaging conversations beyond purely optimizing premiums, or trying to upsell.
Insurance providers should invest in ongoing training and development for their agents, ensuring they have the knowledge and skills necessary to provide exceptional customer service. This may include training on product offerings, communication skills, and the latest industry trends and regulations. By empowering agents with the tools and resources they need to succeed, insurance providers can create a positive customer experience that fosters loyalty.
See What's Trending in the Insurance Industry With Insights From NPS Prism
NPS Prism offers valuable insights for insurance companies looking to improve their customer experience and foster loyalty. By identifying areas for improvement and implementing best practices, insurers can optimize critical episodes in the customer journey, such as the claims experience. NPS Prism also plays a crucial role in tracking progress and ensuring continuous improvement.
Some of the key benefits of NPS Prism for insurers include:
Benchmarking performance against industry peers, allowing companies to identify areas where they excel or lag behind.
Gaining insights into the specific factors that drive customer loyalty, enabling insurers to prioritize their efforts and resources effectively.
Identifying trends and patterns in customer feedback, which can help insurers anticipate and address emerging customer needs and preferences.
Facilitating data-driven decision-making, ensuring that insurers are making strategic investments in customer experience initiatives that deliver tangible results.
Source: NPS Prism US Insurance Survey Q1 2023 n= 15,341
Stay Up to Date on the Latest in CX & NPS Benchmarking
Subscribe to our blog to learn about all the major industry trends revealed by NPS Prism data.