September 27, 2023
5 minute read
Life & Annuities Insurers See rNPS Declines Due to Decreased Engagement and Economic Factors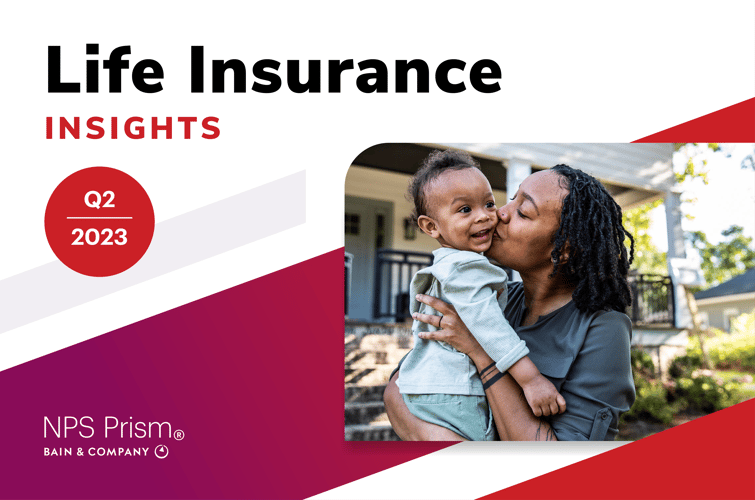 NPS Prism is a CX benchmarking platform that provides detailed NPS insights at the relationship, episode, channel, and product level. The data is based on feedback from 75k+ insurance customers, refreshed every 90 days. We compare CX performance across 30+ P&C and Life insurance providers.
For Life & Annuities providers, Q2 2023 was characterized by slight rNPS declines, changes in digital adoption and a slight softening of human channel satisfaction. Customer engagement continues to be a critical factor affecting topline NPS, and digital channels faced challenges despite increased penetration.
The Trends
Seasonal significant rNPS decline due to decreased engagement and economic concerns
In Q2 2023, life insurance Relationship NPS (rNPS) and Product NPS (pNPS) also declined over 20%. This follows a seasonal trend observed since 2022, in which Q1 metrics temporarily spiked before settling down in Q2.
In 1H 2023 "I thought I could find a cheaper price elsewhere" continued to increase as a primary reason for shopping providers
Continuous rNPS decreases every quarter since Q1 2022
The industry average rNPS has been on a gradual decline, decreasing 1-3 points every quarter on a rolling 4-quarter average since Q1 2022. This decline brings scores closer to pre-pandemic levels as customers engage less with their providers.
Compared to 2021, incidence rates for 'got advice' and 'got help from insurance provider to improve health' continued to decline, further proving the importance of engagement to topline NPS.
Digital Growth in Routine Episodes
Routine episodes, particularly those related to account management, have seen impressive digital growth over the past year. Life insurance saw the largest increase in digital penetration, reaching 40% of customers choosing to using digital first for routine episodes in Q2 2023 for routine episodes. Annuities saw an uptick in digital penetration, but still behind the levels of life insurance products.
Softening of Human Channel Satisfaction
For non-routine episodes, like purchase and advice, have remained decidedly human (>70% across the industry), there has been a slight decrease in human channel satisfaction, signaling that Life & Annuities providers need to continue to focus on all channel experiences as customers are not voluntarily moving to digital on many experiences and crave the human interactions.
Key Takeaways
The Q2 2023 insurance industry landscape reflects the challenges and opportunities brought about by shifting customer preferences, economic uncertainty, and evolving digital trends. Maintaining customer engagement is crucial for insurers, as declining engagement is closely tied to topline NPS performance. While digital adoption is on the rise, providers should focus on improving digital satisfaction; however, must not lose site of the importance of human channels. Striking a balance between digital and human channels remains a key challenge for the industry, highlighting the need for strategic efforts to meet evolving customer expectations.
See What's Trending in the Insurance Industry With Insights From NPS Prism
NPS Prism is Bain & Company's powerful CX benchmarking platform for grocers to gain valuable insights into customer satisfaction and loyalty. With industry-specific benchmarks and actionable insights related to both online and in-store customer experiences, NPS Prism empowers grocers to create tailored strategies that resonate with their customers and foster long-term loyalty.
Source: NPS Prism US Insurance Survey Q2 2023
Tag(s):
Stay Up to Date on the Latest in CX & NPS Benchmarking
Subscribe to our blog to learn about all the major industry trends revealed by NPS Prism data.